The Treewind studio is available for projects ranging from demos and individual tracks to whole albums. As a folk musician with classical musical training I'm most at home with traditional instruments and styles.
The studio is quite small but can accommodate instrumental groups up to five people comfortably, and six musicians + drum kit has proved possible.
The studio can be booked for any day of the week or weekend, but Friday, Saturday and Sunday are generally preferable.
Projects Recorded Here
A selection of recordings mostly currently available.
Cat. no.
Project
Details
TWD003
Through The Groves
Mary Humphreys and Anahata's first album, sold as a CDR. The link takes you to a page containing downloadable Ogg Vorbis files of every track. This was recorded in 2001 on a 4 Track minidisc machine which I don't have any more.
Trailer Music for
"Neelathamara"
I was asked to record a concertina part for the music for the trailer for a Malayalam film, using a rough backing mix which was sent me by email. The song was in Tamil, but the backing was supposed to have a "Celtic" feel to it. Other participants were a whistle player in Germany and an fiddle player in Israel. I never met them, of course! My part was simply to record a concertina track and email it to the producer in India to mix into the final song. You can see the trailer by clicking on the link, (play track 2, "Neelathaamare") and the concertina part is quite clearly audible in places, starting about about 50 seconds in.
This has to be the studio's most unusual project so far.
TWD012
TWD013
Pig Dyke Molly
2008 and 2009 recordings of the musicians of Pig Dyke Molly
Frog On A Bike
6 Track CD as demo or to sell at gigs for a local ceilidh band. Proved I could fit a (small) drum kit and 6 musicians in the studio. The entire recording is available on their web site. They took a master CD and organised their own artwork and duplication.
HFCD001
Penny For The
Ploughboys
Sold by Hedingham Fair as part of a package with Colin Cater's book, this is a mixture of live recordings made at the Three Horseshoes, Duton Hill with audience participation in the song choruses, and studio recordings of Colin and Karen Cater with various musicians. Hedingham Fair handled the artwork and organising CD pressing.
TWD014
A Baker's Dozen
Mary Humphreys and Anahata's fifth album. Treewind's first full album project from recording to artwork, pressed CDs and promotion. Received favourable reviews in the folk press, including fRoots magazine.
TWD015
Out Of Reach
Traditional English tunes from sessions in pubs around Cambridge. Six of the core players came to the studio to make an album to raise funds for Cancer Research UK. Sold worldwide, well reviewed.
TWD016
Bof! Bal
East Anglian band playing and singing Traditional French music. When Simon Haines asked if I could recommend a recording studio for Bof! to record their fourth album, I suggested a couple of extremely well-equipped establishments near them (Ipswich area) and mentioned as an afterthought that I could record them, but it would be much further from home for them to travel. To my surprise and delight, they chose to record here, and it seems to have been a rewarding experience for all concerned. The recordings include hurdy gurdies, bagpipes, Sax, solo and chorus vocals as well as melodeon, percussion and guitar. This was a fully paid project but also on the Treewind label so is available for sale here as well as from the band.
TWD017
Le Meilleur de Bof!
A compilation of selected tracks from three earlier albums by Bof! recorded elsewehere, remastering and artwork done here.
TWD018
Fendragon
With a Whitby Folk Week booking coming up for our ceilidh band Fendragon, I thought it was high time we made a CD to sell at the festival and elsewhere. It's an album of dance music, pure and simple.
TWD019
Sound Tradition
A Four part harmony singing group based in East Anglia. This was recorded in two days and a master CD delivered for duplication within a week, and it's one of my favourite albums recorded here. For most of it, putting a single pair of microphones in front of the group and letting them balance the sound by ear enabled a relaxed approach that got some really good recorded performances in minimal time.
Customer Comments
Thanks to your mixing skills, Frog On a Bike are booked for Rochester Sweeps Festival this year!
Frog on a Bike Ceilidh Band
I just downloaded your complete album, it's really a PLEASURE to listen to it. Carry on, great arrangement, great mix, great instrumentals and ... a great singer. I will continue listening to it in my car tomorrow, when I will have a two hours trip to a studio in the west. I'm deeply impressed of your work ! I like that style a lot.
Gerhard Scherzer, on A Baker's Dozen
I have to say we are thoroughly satisfied and very happy with what you did for us at the weekend. Compared with all other experiences we have had in studios, our time with you was relaxing and unstressful. You were thoroughly professional, set up equipment and recorded us efficiently and with the minimum of fuss, made helpful suggestions and perhaps best of all understood what we were aiming for, because you know our kind of music, our instruments and what they can and can't do.
We can think of no ways in which you could improve on what you did for us over the weekend. Plus of course the tea and coffee and lovely lunches that Mary provided.
All in all a great experience.
Simon Haines, of Bof!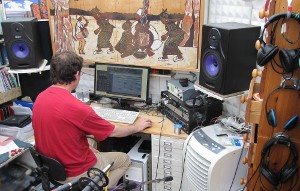 The "desk"