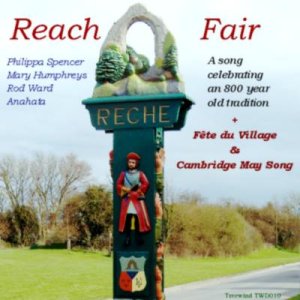 Tracks
"Reach Fair", written and sung by Philippa Spencer with Anahata (melodeon), Rod Ward(fiddle) and Mary Humphreys(concertina)
"Fête du Village + Untitled Hornpipe" from a manuscript compiled by William Mittel of New Romney in Kent and date 1799; a popular set of tunes in the regular sessions at the Dyke's End, played by some of the session musicians.
Cambridge May Song, sung my Mary Humphreys accompanied by Anahata on concertina. Tune collected by R. Vaughan Williams in Fowlmere, words collated from various May carols by Mary Humphreys.
All three tracks were recorded at Mary and Anahata's home studio in Fordham, with the Mittel tunes partly recorded live at a Sunday night pub music session.
Reach Fair
The annual Mayday fair at Reach in Cambridgeshire is the second oldest in the country, having originally been granted to the Mayor and Burgesses of Cambridge by King John in 1201.
The Song
Some time in the 1980's Philippa Spencer, a folk singer resident in the nearby village of Burwell, wrote a song about the fair. Philippa is a regular participant in a traditional music and song session which happens usually on the 1st and 3rd Sunday evening of each month at at the Dyke's End (the pub on Reach Village Green). This year, 2006, she brought the song up to date with a couple of extra verses mentioning the music in the pub, and it has been recorded, together with a tune from some of the regular sessioneers and a new recording of the Cambridge May Song from Mary Humphreys and Anahata who also take part in the music sessions.
The CD
The CD is available for sale at £5.00. We hope to have it on sale at the fair, in the "Dykes End" pub and you can also order it on line here.

Clicking on the button will take you to the NOCHEX secure payment site where you can pay online using any UK credit or debit card.
Sound Clip
Reach Fair - 1 verse MP3