Bof! - Bal
Treewind TWD 016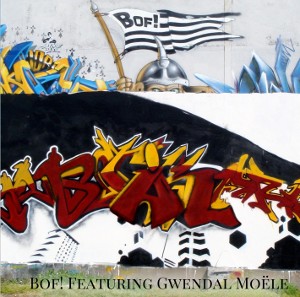 Track List:
Bourrées à Stéphane / Pacotille
Mon Amant de Saint-Jean
Kas A Barh
L'Inconnu de Limoise
Halsway Schottische
Ridées Six Temps
Waltzes
Suite Plinn (1)
Suite Plinn (2)
Suite Plinn (3)
A Nevers
Polkas Piquées d'Allard
This fourth recording from East Anglian band
Bof!
has a combination of dances and music from Central France and Brittany. Bof! are joined on three tracks by singer Gwendal Moële, from Languidic, a village between Lorient and Vannes in Brittany. The graffiti on the CD sleeve was found on a wall in the ancient city of Quimper in western Brittany.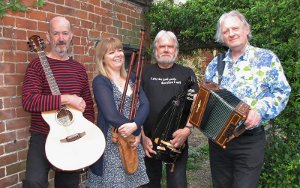 Bof! are
Paddy Butcher - Hurdy gurdies / Melodeon / Percussion / Vocals
Simon Haines - Melodeons / Bandoneon / Vocals
Phil Lyons - Acoustic guitar / Bass guitar / Percussion / Vocals
Val Woollard - Bagpipes / Recorders / Flute / Desk Bells / Saxophone
Joined on this album by
Review Excerpt
This latest CD is a musical geography lesson, with dances and music from Brittany and also the central areas of the Auvergne, Morvan and Berry, and are joined for three songs by the excellent Gwendal Moële.
I have always thought that English bands playing French music always sound so, erm... English. But here we have a band who have not only captured the spirit and essence of traditional French music, they also play their instruments (hurdy gurdy, melodeons, bagpipes, acoustic/bass guitar) in a French way. Something they must have assimilated from their numerous trips to France over many years.
...over all, a great CD and a good addition to your collection or a great introduction to traditional French music.
Mike Gilpin, Mardles